GETTING STARTED in 3 EASY STEPS
Step 1
Schedule Your Free 1-on-1 Intro
Tell us about you and your goals so we can learn about who we are, what we do, and how we can help!
Step 2
Work 1-on-1 With a Coach
Step 3
Join Group Classes and Get Started
Book My Free Intro
Technology is great, but we would love to meet you! Sign-up for a 15-minute chat with one of our coaches to get all your questions answered.
GET STARTED NOW
Our CrossFit Classes
Every CrossFit class is scaled to suit the individual, regardless of fitness level or ability.  In real terms what this means is personalised coaching in a class environment that equals incredible quality and value for money. As each class includes constantly varied moves, you never do the exact combo twice… Which means CrossFit covers every aspect of fitness; strength, power, stamina, cardiovascular endurance, flexibility, balance, agility, coordination and accuracy.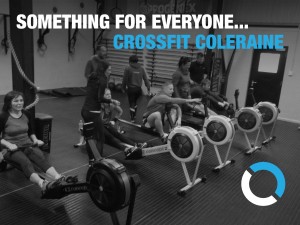 Daily WOD'S
WOD stands for, 'Workout of the Day', everyday a different workout is programmed to ensure you are getting a well balanced strength and conditioning programme covering all bases, the 10 elements of fitness.
Testimonials
The CrossFit BASICS course was the the perfect introduction into the CrossFit community. After having two children in two years I was anxious about getting back to the gym but Stevie was very patient and helped me develop all the skills I need to get my fitness back on track! I would definitely recommend it!
Gayle Turley
I've heard a lot about CrossFit workouts and to be honest I wasn't so sure if it would be for me. I've never done weight training before and didn't even think it would appeal to me; let alone jumping on boxes, skipping and running. The CrossFit BASICS classes were a great introduction to the movements, techniques and how to modify the WODs to suit all capabilities. One month in and I'm still on a learning curve and thankful to the coaches for their expertise and patience. 
Dianne Todd
I purposely switched Crossfit boxes so I could take advantage of Stephen's coaching and Eve's nutritional advice on a daily basis, that's how good they are! Since joining I've immediately seen improvement and progression, in movements and weights that I had stalled at for some time. Each time I step into the box I know I will walk out having improved in at least one aspect of Crossfit and Olympic Weightlifting, and that feeling is second to none. 
Grace Smith
I started CrossFit Coleraine just over 18 months ago & what a time it has been; I've lost weight, gained muscle and found a great community of like minded friends. Not to mention getting a few Pb's along the way! The workouts are adaptable which means they help you change things to suit you. The programming from head coach Stephen is 10/10 & Eve runs a healthy eating program which is great for gaining knowledge on your nutrition. All members are hands on deck making you feel like a vital member of the team and we are all motivated by the commitment from our coaches. I would recommend CFC to anyone, give one class a go, there's no pressure and I promise we all are great craic.
Luanne Smyth
When I joined CrossFit in 2019, I had no idea that it would become such an important part of my life. I have never been a particularly "sporty" person and have, over the years and places I've lived, joined several commercial gyms but never found myself staying long. CrossFit is the first gym I've ever stuck at long term. I have absolutely no doubt that the reason I'm approaching my fourth year of membership at CrossFit Coleraine is down to the uniquely welcoming and supportive community that Eve and Stephen have created. I have not only become the fittest, strongest version of myself since joining, I've also made several friends for life!
Anna
My CrossFit journey began when I joined the beginner class. Did I think I could do this – no way!!! Did I think I would enjoy this – absolutely not!! Was I nervous – ABSOLUTELY!
However this journey for me has been life changing. Stephen, Eve, Charlie and team have been supportive and encouraging from day one. I've loved the mix and change and would encourage anyone who is looking to get fit or healthier to try it. Anyone can do this, I am living proof. I am now an addict because not only is it effective but the whole CrossFit community have welcomed me in and made me feel part of the team.
I am still a beginner and love that every aspect of the training can be adapted to suit me, it doesn't matter your fitness or ability, just get involved and do something for you. The change in my overall fitness and shape have been incredible & I can't wait to continue my CrossFit Coleraine journey!
So thankyou for inspiring, motivating and supporting me to change. What a team.
Lauren McAfee
My decision to come & try CrossFit Coleraine was motivated by wanting to improve fitness which had declined due to injuries and fractures. At 63 and having Osteoporosis & Osteoarthritis I was very hesitant as I wrongly assumed it would all be young ones who would laugh at a Granny coming. Not to mention previous gym experiences years ago which were unpleasant, not particularly clean and with no real instruction.
I was very nervous so I started with Personal Training sessions with Eve. I found this so helpful before my first proper class but I needn't of worried as it was great, people were so friendly & welcoming. I was able to go at my own pace and there was lots of supportive encouragement.
I keep coming back because I can feel & see the improvement in my strength, plus each class gives you a real buzz; once you can get your breath back that is!
I would advise anyone to give it a try, just remember the only person pushing you forward is you. No one expects you to do a certain number of reps or lift a particular amount. It's all scaled to the person who is you. I would like to give my thanks to Eve & Stephen especially, as they are the ones who have been looking after me, their knowledge & expertise give me confidence which in turn makes me feel safe, this is what keeps me coming back!
Jan McCrudden
Regardless of your age, gender, background, fitness level or confidence in the gym, CrossFit Coleraine is a place where you will feel welcomed and included. All exercises can be scaled relative to your ability and desire to challenge yourself. You will find a positive, inclusive and encouraging atmosphere from the first day you join a class. The coaching is second to none – Stevie and Eve know how to best tailor exercises and workouts so that each person can feel challenged, whilst not feeling overwhelmed.
I personally joined CrossFit as I was disillusioned with more typical strength and conditioning training. I was beginning to find it tedious and I lacked desire to train. Since joining CrossFit Coleraine, I have learned a lot of new skills in areas such as Gymnastics and Olympic Lifting, and my strength and cardio has also improved. More importantly, I have met a lot of great people along the way. The classes are great for accountability – training in a group makes you push yourself that little bit extra, which makes all the difference.
I couldn't recommend CrossFit Coleraine highly enough.
Daniel
If the only experience you have of CrossFit is seeing the Games on TV, you could be forgiven for thinking you need to be super fit to start. Don't let that misconception put you off. Yes some of our athletes are absolute machines, but most of us are 'everyday athletes'. I'll be 60 this year. I scale everything (do simpler versions of exercises)but I take part with everyone else and progress at my rate. I found when I went to other gyms it was too easy to just do the same old routine and take my foot off the gas if I was a bit tired. The coaches are brilliant at getting the best out of you and always trying to push you a bit further.  Their knowledge base is second to none and I learn something every time I'm there. The members are a welcoming bunch – it's not a gym you just walk in and out of without having a chat with someone. It really is for everyone- come and try it for yourself.
View our setup