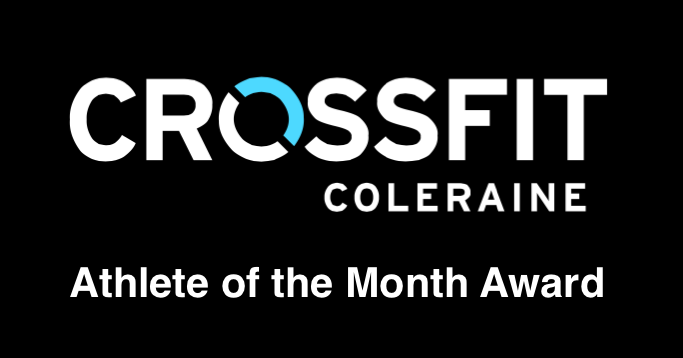 ANNUAL AWARD CATEGORIES 2016
Worst taste in music – brave enough to subject us all to their shocking playlist.
Ben Wallace
Biggest chalk monster – up to their elbows in it… They are literally wearing it head-to-toe.
David Carey
Performance of the Year – A memorable record-breaking, impressive, or inspiring performance.
Lynne Mayrs
Master's Athlete of the Year – The most impressive athlete, 45 years or older, male or female who has been training with us for 6 months or longer.
Mary Quinn
Biggest cheerleader – athlete most likely to cheer you on to the end even when everyone else finished 10 minutes earlier!
Sean Case
Most improved athlete – athlete which you feel has made the biggest transformation in terms of their training in the last year.
Colly McCluskey
Zombie apocalypse partner – which Athlete do you want with you when the inevitable happens?
Will Smith
Dedicated Newcomer of the Year – The most impressive athlete who started training with us sometime this year.
Catherine Edgar
Most inspiring athlete – an athlete who's performance and attitude in the box encourages you to keep chasing those goals.
Kathryn Brown
CROSSFIT COLERAINE ANNUAL AWARDS 2015
As nominated by you, the members of CrossFit Coleraine, I'm sure you will agree these are all worthy winners!
Most Community spirited athlete – Sean Case
Most consistent athlete – Andrew Thompon
Biggest chatterbox – John Brankin
Most likely to 'Crash and Burn' in the workout – Colin Mayrs
Most likely to give every workout their all, every time – Lesley Ford
Most improved female athlete- Lynne Mayrs
Most improved male athlete – Ben Wallace
Most inspiring female athlete – Kathryn Brown
Most inspiring male athlete – Mark Smith
ATHLETE OF THE MONTH – December
Decembers athlete of the month goes to Jonny Todd who primarily trains at 6am, usually being the first to turn up and rarely missing a session. He has set himself specific training goals which he has been steadily working towards. Apart from his training ethic he worked tirelessly behind the scenes at the Battle of the Boxes competition crunching numbers on spreadsheets and has also introduced a few of his friends into CrossFit. Jonny is a valued member of the box who quietly gets on with the task in hand, congratulations on your achievement. 🙂
ATHLETE OF THE MONTH – January
This month we are giving this award to someone who has persevered through injury and learned through trial and error that less is sometimes more! She has recently spent lots of time and effort dialling things back to address technical detail and focus on drills and learning new skills. Not only that but she produced all the impressive photography for our Battle of the Boxes competition and tirelessly facilitates the training of her amazing brother. Well done Grace Smith, congratulations on your achievement. 🙂
ATHLETE OF THE MONTH – February
Well done to Jenny Moore who we are awarding February's athlete of the month award. She has truly embraced CrossFit, transitioning from being an absolute beginner to recent overhead squat pbs! Jenny has worked very hard, throwing herself into learning barbell drills by regularly committing to the Olympic lifting classes. Not only that she has been chipping away at the pull up programme progressions, her double unders are coming along nicely And this has been topped off by Jenny facing the unknown and entering the open. Congratulations Jenny and enjoy your CrossFit Open journey!
ATHLETE OF THE MONTH – March
March for some has been dominated by the Open and one person who's effort has amazed us is Marino. This was his first ever experience of the Open and he gave himself 100% to the scaled workouts pushing himself to the max every week. With some pbs thrown in there and a whole lot of grit and determination we have seen him improve, not just over the open but weekly since he started his CrossFit journey. Well done Marino!
ATHLETE OF THE MONTH – April
Athlete of the Month goes to someone who has to be the most positive person we know. She is the first to encourage another athlete or to say, 'well done' without the need to list her own achievements; and in the last months there have been many! She has mastered her strict pull up after weeks of dedicating herself to the strict pull-up programme, she has consistently drilled her weaknesses and seen some impressive pbs, she tackled the open head on and often catches up with WODS and heavies at home due to a hectic work schedule. Not one to make excuses, she works around limitations and gives 100% every time, so we are delighted to give Aprils award Sarah Lacey. Well deserved, keep up the hard work and congratulations!
ATHLETE OF THE MONTH – May
This month we are giving the award to someone who is quite new to CrossFit but has really thrown themselves into it 100% over the last few months. He has been closely following the advice of the coaches regarding mobility issues and skills and is improving daily because of it. He has been regularly attending barbell classes to improve areas of weakness and has consistently tackled what needs attention. We, as coaches have been very impressed with the commitment and dedication shown and are pleased to give this months award to Ben Wallace, congratulations!
ATHLETE OF THE MONTH – June
This person has worked hard over the last few months on their gymnastic skills and Olympic lifts. This has paid off with not only mastering the bar muscle up but also seeing pb's in his Olympic lifting. He is a pleasure to have in class as he is eager to learn more as well as help others where he can. Not only that but we all benefited greatly from his expertise at our recent rowing workshop. Jonathan Mitchell (JP as we all know him) congratulations, you are an asset to us, well done on your achievement!
ATHLETE OF THE MONTH – July
We are giving this months award to Andrew Thompson in recognition of his tenacious and singleminded approach to his training. This shone through more than ever at The Irish Throwdown where we witnessed his unflappable, calm, calculated approach to the workouts pay off time after time. Andrew finished top 20 out of 60 competitors which is a testament to a solid performance up against some fierce competition. Andrew, we were proud to compete along side you and look forward to seeing what you will achieve in the future! Congratulations.
ATHLETE OF THE MONTH – August
Athlete of the month for august is going to someone who has quietly been working their skills and steadily getting stronger. She has been embracing team competition and has been continually challenging herself and stepping outside her comfort zone. RXing workouts is becoming more frequent as she improves, not only that, it is becoming common place for her whiteboard score to top that of a certain Mr Mayrs. Well done Lynne Mayrs on your achievement, very well deserved!
ATHLETE OF THE MONTH – September
Anna has only been doing CrossFit for 5 months but in that time has already managed to chalk up her first CrossFit competition; The Coastal Clash with Team Blair's. Not only that she tirelessly works her weaknesses in open gym and is already shifting a significant amount of weight with frequent PB's. Above all this, Anna is humble in her achievements and the first to encourage and praise others. It will be exciting to see what the next year of CrossFit holds for you Anna as you work very hard, congratulations.
ATHLETE OF THE MONTH – October
Congratulations to Andrew Dalzell who has impressed us with his ability to set a combination of long and short term goals; most impressively, his ability and willingness to reavaluate and keep focused.  He has committed to his training and is seeing the amount of weight he is lifting increase whilst also chipping away at his long term goal of weight loss and overall wellbeing.  He has not been deterred from his mission despite some spectacular falls along the way! Well done Andy, keep up the hard work.
ATHLETE OF THE MONTH – December
Decembers Athlete of the Month goes to someone who we have watched attack their weaknesses full on and has seen immense improvements because of it. With a rigorous work ethic she has systematically attacked all her strict gymnastic movements, particularly dips, pull-ups, HSPU's and technique work and the results speak for themselves; stringing together multiple chest to bar, Rxing Elizabeth and of course nailing the elusive muscle up. Her progress hasn't been limited to just her gymnastics movements, her passion for the Olympic lifts is evident with a recent 70kg snatch pb. This is certainly going to be an exciting year competitively for this inspirational athlete and as coaches we can't wait to see what more hard work and persistence will achieve. Congratulations Lesley Ford!
ATHLETE OF THE MONTH – January
Members don't often get to see the dedicated 13 who turn up and Throwdown 3 times a week at 6am; they are names on the board we all gaze at in awe! January's athlete of the month consistently trains at this time and has been working hard on all aspects of his fitness. This has paid off as we have seen him master his double unders amongst other skills and increase in strength. With a busy work and family life Colly is an example of what consistent effort can achieve. Well done Colly!
ATHLETE OF THE MONTH – February
This person really does give it their all every time they come to the gym, giving 100% effort regardless of the task. She has thrown herself into CrossFit after years of attending a globo gym and she really has embraced what CrossFit has to offer. Her commitment has been rewarded with improvements across both her strength and skills and it is great to see her confidence grow as she tackles the Open and the Masters Coastal Clash. Well done Jill, you are doing great.

ATHLETE OF THE MONTH – March
The Open is a challenging time for us all but this athlete had to tackle a new, tougher age category which he did, head on. Completing all the workouts RX in the teens 16-17yr age category he gave each one 100%, excelling in the bar muscle up wod and with an overall finish of 89th in Europe. Not only did he compete with integrity he showed great humility in often staying behind to put away discarded barbells and rearrange plates. In addition to this he judged, encouraged and cheered on his fellow athletes, which for a young teen I'm sure you can see makes Brayan Case a very worthy winner to Aprils Athlete of the Month award. Congratulations!
ATHLETE OF THE MONTH – April
Campbell Thompson has been quietly working away In class, recently focusing on his weaknesses ready to tackle the Masters Coastal Clash. Campbell never gives up and the hard work paid off, seeing him finish 3rd in the 50+ category and overall finishing well above many competitors upto 19 years younger than him. As well as this recent achievement Campbell holds the title for the biggest deadlift in CrossFit Coleraine leaving us wondering how any more plates can be fitted onto the bar for his next pb! Campbell is often quite hard on himself, with progression not happening as quick as he would like but we think he underestimates all he has achieved and will see him learn to love those burpees yet!
ATHLETE OF THE MONTH – May
This person has a sporting background so has easily slotted into CrossFit, mastering many of the technical moves quite quickly and as had the ability to RX all of the workouts pretty much from the off. However, it's never this which catches our eye as coaches, it's his attitude to training and a particular mindset; over the past few months we have seen him step up the intensity and direct his focus and really start to address weaknesses and drill technique. It's all about personal progression and this person has really pushed forward in recent months. Not only this he's extremely humble, an encouragement to others and generally a pretty top bloke!!! Congratulations Jason, I think that this is going to be a great year for you in CrossFit and you will significantly shake things up competitively in the near future!
ATHLETE OF THE MONTH – June
Junes athlete of the month award goes to an athlete who has recently come on leaps and bounds, just as an example – setting a recent snatch pb of 10kg. This isn't a coincidence as he has committed to setting goals and been determined in his training, regularly attending competitors class and has been driving towards his main goal of competing in RX devision. Pete understands this is a process and has made a fantastic start by entering the Irish Throwdown as a scaled competitor, finishing joint 2nd in a close run race which he dominated for the entire day. It has been great to see the improvement he has made by just a few small changes and we are excited to watch him compete in his first RX COMPETITION in the coming 12 months. Well done Pete Bogle, yours hard work has paid off and we know we can always depend on you to RX the after party.
ATHLETE OF THE MONTH – July
There's nothing like a bit of healthy competition between a married couple and we have seen plenty of that since Diane Todd started CrossFit, she has been chasing down her husband since day 1 and is a woman on a mission! From the beginning Diane has worked consistently and diligently,following the programme and steadily improving in every area of her fitness. Despite always knowing the workout ahead of time because Jonny has already throwndown 12 hrs previous, she never cherry picks, facing her weaknesses head on. Because of this she is seeing improvements across the board and is getting stronger physically and mentally when facing the wod. As well as this Diane has to be the sweetest, most gentle member of CrossFit Coleraine who is always ready to jump to anyone's assistance. A thoroughly well deserved win Diane, huge congratulations (I hope this is almost as satisfying as beating Johnny's time on the board last week).
ATHLETE OF THE MONTH – August
This months award is an absolute pleasure to give as we have seen this person grow not only as an athlete but into a lovely young lady. Erin has been training with us since she was 16 and alongside the PB celebrations we have had the privilege of seeing her receive fantastic GCSE results, A Level results through to being accepted at Queens. The PB's incidentally, have also been coming thick and fast so Erin has had plenty to celebrate as she has become increasingly fitter, faster and stronger, which is no surprise as she works unbelievably hard and we can't wait to see her in action in The Coastal Clash team event next weekend. We certainly will miss her and Belfast's gain is most definitely CrossFit Coleraine's loss, however we are immensely proud that Erin can say she started her journey with us and can't wait to have her back at holidays. Congratulations Erin, you thoroughly deserve this!!!
ATHLETE OF THE MONTH – September
Septembers award goes to an athlete who is extremely consistent in his training and has improved many of his skills particularly in the last 6 months; also making great improvements in the technical lifts. Well known to the coaches for pacing his workouts well he is always at the forefront and this methodical approach is reflected in his scores and numbers; as well as this you can count on him to never cut corners, with the last rep always as good as the first. Apart from his contribution as an athlete he has tirelessly judged for hours at our Coastal Clash events, giving up his free time to do so. Of course, it goes without saying that we have also found him quite useful to have around in an emergency!! A thoroughly well deserved award this month to David, or AKA Ginge / Doctor-David .
ATHLETE OF THE MONTH – October
This month we are excited to give this award to a very diligent athlete who has steadily worked for months on improving mobility, this dedication to trusting the process has paid off with her recently progressing to pull-up progressions off of the bar. Along with this we've seen her rapidly increase in strength in all her major lifts which is a surprise to her but not us, as she commits to training regularly throughout the week. We love to see a bit of healthy competition between couples too and there's plenty of this as she regularly edges above hubby on the whiteboard!! Most importantly of all, she has the vital role of supplying the coaches with their morning caffeine and the sound of the Cafe-2-U van is our favourite sound at 8.30am! Congratulations Helen, all the hard work is getting fantastic results.
ATHLETE OF THE MONTH – November 
This athlete has made rapid progress at CrossFit Coleraine as she has thrown herself into every aspect of her training, including targeting gymnastics, the Olympic lifts, strength and mobility.  She is very keen to learn and is pb'ing at every turn. In the short time she has been with us she has qualified for the Celtic Cup with Team Ripped, signed up to the 24hr wod challenge and been regularly attending all the extra classes programmed to ensure as an athlete no weakness is left unchallenged.  Apart from this she is a positive and encouraging influence in the box and was nominated for many of the award categories.  It is our pleasure to recognise this upcoming and talented athlete, well done and congratulations Terri! 
ATHLETE OF THE MONTH – December
Congratulations to this inspiring athlete who puts as much into her CrossFit as she does into her party-life which is saying something!!  She has been focusing on technique and consistency and after months of hard work is seeing the benefits, this became apparent earlier this month when she RX'd her first ever workout and persevered to the very end of the gruelling hero WOD Randy. This is testament to her  attention to detail in the Olympic lifts as every rep was technically sound from rep1 right through to rep 75. In addition she was a valuable support to the 24hr AMRAP team where she stayed for many hours encouraging and counting reps. Congratulations to May Chung who if your not sure which one she is it's the athlete  in the giraffe disguise .
ATHLETE OF THE MONTH – January
This athlete is a frequent competitor for CrossFit Coleraine in teams, pairs and individual categories; when he's not competing he's often there to cheer on and support.  Always a regular name on the whiteboard this athlete is a frequent leader in the scores but more than that, he's willing to help and guide other athletes to improve their skills.  He is a valued coach at CrossFit Coleraine who offers huge moral and practical support to us in running the gym, however it is our pleasure to recognise his contribution as an athlete. As he was unanimously voted the athlete you would like with you if there was a Zombie Apocalypse I think we can safely say you guys value him too! Congratulations Will Smith.
ATHLETE OF THE MONTH – February
Congratulations to the amazing Catherine Edgar who threw herself into, ALL THINGS' CrossFit in September 2016 without exception.  She trains unbelievably hard, not just attending regular class but spending ALOT of time addressing her weaknesses, concentrating on mobility, stretching and fixing imbalances.  Not only this but she has thrown herself into all community aspects of CrossFit Coleraine, most memorably staying up all night during the 24 hr AMRAP to support the team and count reps.  She has come in early and stayed late on many occasions to encourage new members and explain to them all the things she herself has struggled with.  Going from being unable to squat her own body weight just 5 months ago it's been a pleasure to see the improvements, as an Example last night she power cleaned 50kg with ease!  We don't say it lightly when we say she's a true asset to our community and is a pleasure to coach. Keep up the hard work Catherine, I've lost count of the people who have commented on your amazing progress…Well done!
ATHLETE OF THE MONTH – March
It is such a pleasure to give this months award as we know she will not expect it one little bit! She quietly gets on with things, ALWAYS giving her very best and diligently working on skills and challenging herself with new goals.  Having only started CrossFit in recent months her speedy progress is down to her fortitude and resilience which we've seen displayed on numerous occasions.  After a nasty box jump fall which required stitches we shouldn't of been surprised to see her attack the 17.1 box jump workout only a week later.  The subsequent OPEN workouts she attacked with the same vigour getting not only her first kipping pull-up in 17.2 but a grand total of 20!  As if that wasn't enough she went on to RX 17.5 to finish off her first ever OPEN with the same level of determination she began with.  It has been incredible to watch what persistence and grit can do, along with a bit of healthy marital competition! Well done L-J … We are so proud of you!!!
ATHLETE OF THE MONTH – April
Well this lady has surprised herself more than anyone with what she has achieved I think!.  After categorically telling us that there was no-way she could do the open she gave every workout 100% and you all witnessed it and awarded her 'most inspiring performance' for 17.1!  Gayle is the heart and soul of any class she attends and can RX the chat that if it was 'a thing' it would get her to the games! Yet she will ALWAYS give her all to the workout and is not afraid to push hard and it's great to see the improvements being made. Most importantly though is how friendly and welcoming she is to everyone and is the first to greet people and make them feel at home, this is invaluable for any box as she makes the most anxious newcomer feel at ease.  We are so proud of you Gayle and love watching you improve, congratulations
ATHLETE OF THE MONTH – May
We are giving this months award to a person who would not consider themselves an athlete, but WE DO!  She diligently followed the strength programme and pb'd ALL of her lifts significantly and also recently got her first strict pull up.  As well as all of this she is a positive and encouraging person to have with you in the gym and will always cheer the last on to the end.  For numerous competitions she has come along to support her fellow athletes and more recently at the Coastal Clash she judged tirelessly.  She has had to persevere and often do her workouts on her own in open gym time but she has not let this stop her!! Well done Siobhan, you have worked really hard and thoroughly deserve this award., just call her Bond, She Bond.
#crossfitcoleraine #youonlybetter #athleteofthemonth #proud
ATHLETE OF THE MONTH – June
Consistent, dedicated, hard working and diligent …. This is just a few words to describe this athlete who attends the 9.30am class EVERY DAY without fail.  His competitive nature means he's a bit of a perfectionist and doesn't give himself credit for the incredible progress he has made over the last 8 months.  He has mastered many of the gymnastic movements due to a natural athletic ability and has been focusing more lately on the trickier Olympic lifts and has not shied away from addressing his weaknesses. He has put time and effort into mobility and perfecting the more technical movements and we are so proud to see him improve and grow, congratulations Jeffrey Parkhill, very well deserved!
ATHLETE OF THE MONTH  – July
This athlete has progressed rapidly since beginning CrossFit mainly down to his 'coach-ability'.  By this I mean his willingness to go beyond his comfort zone … To listen to us as coaches …. Go for that pb, or not … His eagerness to learn means he listens and it is paying off.  We are so excited to see him compete in his first CrossFit competition in September at The Coastal Clash, he is getting stronger by the day (down to his rediculously young age!) and honing his gymnastic skills at an equally incredible pace. Well done Paddy, good work!!
ATHLETE OF THE MONTH – August
This athlete has learned so many new skills I don't know where to begin! At 60 years young and never having been to a gym EVERYTHING has been a new experience and is a true testament to the fact age is JUST a number.  This has not stopped her, in fact it has been amazing to watch her learn and grow whilst getting stronger and more skilful with each session. Eager to learn this athlete has embraced everything we have put to her and it has been wonderful to see her getting PBs and her marvel at the changes in her body; starting with Personal Training sessions then throwing herself into classes albeit apprehensively, no one has been more surprised than she has at how much she has progressed and also thoroughly enjoying herself whilst she's at it.  Well done Siobhan, we can't wait to see what you will be 'cleaning' this time next month!!!
#crossfitcoleraine #youonlybetter #athleteofthemonth #proud #ageisjustanumber
This months award goes to CrossFit Coleraine's mascot!  He has been with us through thick and thin and seen the best and worst of us as he has walked EVERY step from the minute we opened until now.  Always there to give encouragement
ATHLETE OF THE MONTH – September
This athlete has embraced CrossFit since he began, not shying away from all its challenges! Despite it all being so new Matthew entered the OPEN even going RX for the dreaded box jump and dumbbell snatch workout.  He consistently attends the 9.30am class and is a pleasure to coach with his determination and give-it-a-go attitude. This has all rubbed off on Amy who had to come along to see what all the fuss was about and is now as hooked as he is!  Matthew has also made significant changes for the better regarding his health and made the huge leap of giving up smoking. As if that wasn't enough he stepped up at the 11th hour to fill a place on a Coastal Clash team and did a fantastic job with his team mates.  Well done on your achievement Matthew!
#crossfitcoleraine #youonlybetter #athleteofthemonth #proud
ATHLETE OF THE MONTH – October
Well done to Karen Todd who is the epitome of persistence. Karen has attended 3 time a week without fail for the last 2 years and she is approaching her 2 year anniversary this month, not many people can say that! Not only that but it's always the 6am class which requires dedication to the process; a 5am start is not easy. She is welcoming and inclusive of everyone and despite self doubt always has a go at everything. Well done Karen, keep up the hard work.
#crossfitcoleraine #youonlybetter #athleteofthemonth #proud
November Kerry Wallace
ATHLETE OF THE MONTH – December
This athlete has been steadily growing month on month as he has been paying attention to his technique. He seizes every extra coaching opportunity in order to benefit, with workshop attendance and following drills. Due to this the improvements to his barbell work over the last 6 months has been marked and his fitness levels are increasing. He is a huge support to our community and is always in attendance at any function we hold whether it be cheering us on or bringing in food (I remember the 24hr amrap well and the much needed snacks you supplied)!
A busy work schedule doesn't stand in his way and he always makes time to get his training in. We are very proud of the transformation and dedication that he has committed to and look forward to seeing this journey continue. Congratulations Neil on this award and what you have achieved so far, well deserved!
ATHLETE OF THE MONTH – January
Well done to this amazing athlete who has embraced CrossFit and all its challenges. She started off tentatively with PT's unsure how much or what she could do after serious surgeries; yet she has gone from strength to strength which can only be described as against the odds.
We are so very proud of her, as we have watched her improve and gain strength, what a privilege it is to play apart in her journey! Well done to you Sarah., and don't worry we won't tackle the running again any time soon!!!
ATHLETE OF THE MONTH – February
This person has made so much progress since starting with us, starting off in our beginners class, doing her fast-track and signed up all within the same week! She has tackled everything with the same determination ever since that day in May and continues to push and challenge herself. One thing this athlete can be highly commended for is scaling appropriately and following suitable progressions until she surpasses her goals. A fine example of this is the box jump which she tentatively began with just 4 stacked plates, steadily increasing until she reached her goal of a 20″inch box. Then, always pushing forward, last week she did the 24″ box in the workout!!! In addition to this she is currently competing in her first CrossFit OPEN, well done Amy on your progress this year, it really has been amazing to watch … Congratulations on this award.
ATHLETE OF THE MONTH – March
This athlete is the heart and soul of the 9.30am class, usually leaving us all in awe of his amazing backsquat and deadlifting strength. He's proved handy to have about too as he has already custom made shelving, a Chalk stand and is currently working on The Coastal Clash trophies; not to mention repairing boxes! As well as all of this he has successfully completed another OPEN giving every workout 100% effort and well deservedly banking some pb'S along the way. Most impressively this athlete has also completed the healthy eating challenge with a huge 10kg weight loss and has dedicated many hours to improving his gymnastics. Nicholas, you are a pleasure to have as a member and we love the way you attack your weaknesses as well as the heavy barbell, keep up.
ATHLETE OF THE MONTH – April
This month we want to acknowledge the amazing contribution that AnneMarie makes to our community. She brings such a positive vibe into class, she is a pleasure to coach as she is so willing to learn and progressing at a rapid rate. Noticed not just by us as coaches, but recognised by all of you guys as you nominated her; Dedicated Newcomer of the year 2017 by a clear margin.
In the time that she has been with us she has brought along her mum, dad and sister who are all as enthusiastic as she is! Not only that she actively supports everything we do on social media and has contributed herself with awesome videos which she has painstakingly put together, as well as this she has cheered and encouraged at competitive events both home AND away. What a great advocate you are for what true CrossFit community stands for AnneMarie! A well deserved win, congratulations.
ATHLETE OF THE MONTH – MAY
We are giving this months award for pure enthusiasm… He is so keen to participate in everything and to improve. After completing the healthy Eating challenge he has made huge improvements to his eating habits which has transferred into his athletic performance. He is always so encouraging to others and is the first to cheer someone over the finish line, not only that he has always supported our competitive athletes wether competing home or away and is also excited to compete himself. He is a regular at our competitors class and recently competed in The Coastal Clash masters, has plans for a team in Septembers Coastal Clash. And is also heading to compete in the Celtic cup in Dublin this weekend. Well done to our very own Johnny Quigley who we can always say throws himself into whatever he is participating in! Well done Johnny.
ATHLETE OF THE MONTH – JUNE
We often say that sometimes athletes make things more complicated than needed and they just need to SHOW UP and do the work.  Well this athlete shows up without fail 3 times a week to the 6am class, she never moans or complains and works hard at her 100%.  She quietly gets on with the work in hand and focuses on her appropriate scaling whilst making steady improvements and progress.  She never concerns herself with what the RX is or what others are doing, she simply gets it done!
Believe me these are strengths in themselves and will seal her continued improvements.  Recently she has been offering the same steely determination in the direction of the healthy eating challenge with a significant 4kg loss in her first 3 weeks.
A massive and well deserved congratulations to Amy McSparron, keep up the hard work!
ATHLETE OF THE MONTH – JULY
What a start this girl has made! The skills are starting to come together and the numbers are going up on those lifts; all down to consistently putting in the hardwork and showing up to do the work.  Always a pleasure to have in class this athlete gives her very best with a willingness to try new things. She has her first OPEN in the bag, plus an online comp and coming up she has her debut at The Coastal Clash teams.
One to watch as the gains and improvements are coming thick and fast, all down to her determination and persistent effort.  Well done Claire Mcgarvey, you make the family tally for athlete of the month a winning 3!!!
ATHLETE OF THE MONTH – AUG
This athlete works away quietly in the corner, you would hardly know she's there! But this little ninja is easy to underestimate as she has been steadily getting stronger and stronger and nailing those skills 1 by 1.  90 kg backsquat for reps along with a repertoire of gymnastic movements her progressive gains are a testament to her hard work and consistent effort. She will soon be facing the competition floor at The Coastal Clash Teams and will be an amazing asset to her team.  Well done Sinead you little power house, you should be very proud of all you have achieved.
ATHLETE OF THE MONTH – SEPTEMBER
Well done to Jenny on earning Septembers Athlete of the Month award.  She has been consistently coming for about a year and the improvements and determination to get better are inspiring. At the beginning Jenny struggled to do a push up, fast forward to today she was banging out sets of 10 in the team series workout and this is just the start!  She has always focused on technical efficiency and this is now paying off as all the Olympic lifts and gymnastic movements are going from strength to strength.
Always a pleasure to have in class, Jenny is a bundle of energy and we feel glad to have her as a part of our community.
ATHLETE OF THE MONTH – OCTOBER
This month it's our pleasure to give this award to our adaptive athlete Gareth Baird.  His focus daily is what he can do and never on what he can't do and it's this attitude to hiss training has brought him incredible improvements which have benefited many facets of his life.  As coaches we have been challenged to keep Gareth's training varied, interesting and most importantly effective.  This has involved trying many things, some which have worked and some which most definitely haven't!  The incredible thing is his response is always the same, 'I will try!'.  We feel privileged to work with Gareth and continually feel Inspired by his determination to improve, his strive for excellence and his drive to simply be better than yesterday.
ATHLETE OF THE MONTH – NOVEMBER
This month, Athlete of the Month goes to someone who I would describe as a reluctant CrossFitter.  She has been diligently attending for 2 years now, starting it up because she knew her fitness and health needed to be addressed.  At the beginning (and for many months) she couldn't hold her own bodyweight hanging on the bar long enough to lift her knees once … she couldnt push a 15kg bar over her head. Fast forward to now and she can do huge sets of kipping knee raises, STRICT presses 30kg , can deadlift 90kg and has the most perfect split jerk technique.  Going from reluctantly attending 3 times a week she's now there 5-6 times a week and can't get enough! The key to her success most definetly being consistent effort… turning up no matter what the feels and it's been transforming; so many of you noticing the remarkable change.  I may be slightly biased with her being my big sister but I think this is incredible. Well done Ann, you deserve it!
ATHLETE OF THE MONTH – December
Well done to this athlete who despite a busy work schedule gets in when she can and is willing to put in the extra time towards honing skills and addressing weaknesses.  Always willing to give things a go and still finding time to encourage those around her means she's making steady progress and an asset to any class.  Not only that she has thrown herself into the Coaching the Coaches programme, willingly put herself forward for team and pairs competitions and overall is equally happy to see others reach their goals as well as ticking off her own.
Well done on your achievement Clauds, you deserve it.